"Capturing the Unseen: Exploring the "Graffiti Passerby" Photo Series"!
Intro:
 In the bustling urban landscape, hidden gems often lie in plain sight, waiting to be discovered.
My latest photo series, "Graffiti Passerby" is a testament to the unnoticed interactions
between vibrant street art and the everyday lives of those who walk by.
This collection captures the intricate dance of humans and art, as they intersect in
fleeting moments amidst the city's constant movement.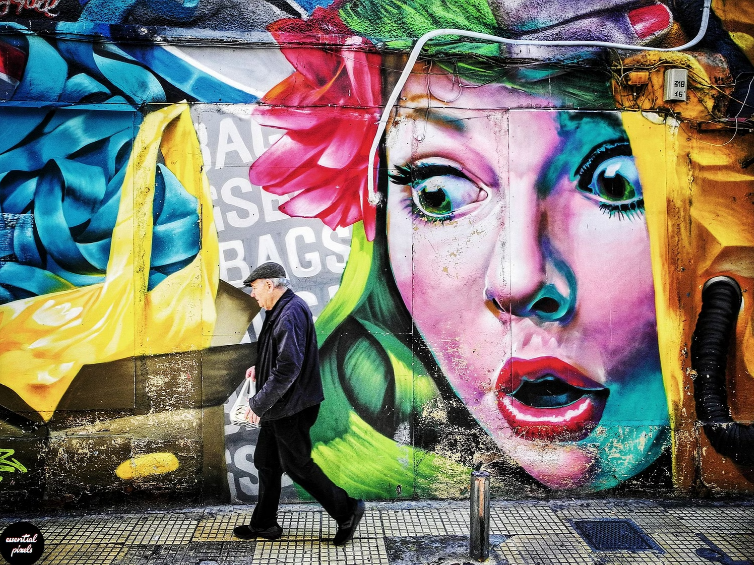 "Graffiti Passerby": Merging Art and Humanity
 The "Graffiti Passerby" photo series is a fusion of two worlds that often coexist but
rarely intertwine in our conscious perception. As I observed the streets adorned with
graffiti and street art, I was struck by how people would navigate their daily routines
without a second glance at these colorful creations. The series serves as a reminder that
even amidst the beauty of urban art, the ebb and flow of life often takes precedence.
Moments Frozen in Time
 Each photograph in the series captures a unique moment in the lives of individuals
passing by graffiti covered walls. Whether lost in thought, engrossed in conversation,
or focused on their destination, these ordinary moments become extraordinary
through the lens of my camera. The juxtaposition of human movement against
the static backdrop of art creates a dynamic visual narrative.
Inviting Reflection and Dialogue
 "Graffiti Passerby" aims to spark contemplation about the unnoticed beauty that
surrounds us. It invites viewers to consider the layers of art and humanity that
intermingle in our urban environment. The series encourages dialogue about
the stories that unfold in the unscripted encounters between people and art,
prompting us to question what we might overlook in our rush through life.
The Power of Fusion
 In blending the worlds of street art and the transient lives of urban dwellers,
"Graffiti Passerby" underscores the magic of visual storytelling. It unearths the
poetry in the mundane and celebrates the harmony of chance encounters.
By intertwining two seemingly disparate elements, the series offers a fresh
perspective on the intricate tapestry of our surroundings.
Conclusion:
 The "Graffiti Passerby" photo series is a celebration of the unnoticed connections
that shape our urban landscape. Through these photographs, I invite you to
join me in exploring the untold stories of everyday individuals who cross paths
with vibrant street art, often without realizing the extraordinary collision of
their lives with artistic expression. As you peruse the gallery, may you find
a renewed appreciation for the art of observation and the stories that lie
beneath the surface of our bustling cityscapes.
Until next time,
Efthimis Papapaschos